We use Heidelberg presses for our lithographic printing. Now, you might not know what that means, but let me tell you, it's the Gold Standard in printing presses!
They are from Germany and are built by precision mechanical engineering company, Heidelberger Druckmaschinen AG. So basically, it's like the Mecedes Benz of printing presses. They're super safe – they have all the bells and whistles to make sure our printers adhere to all health and safety requirements. And they keep all their fingers while using the machines.
What does this mea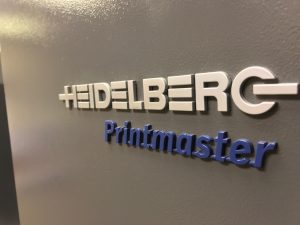 n for you? Well… it means that if you care about your print run (we do), then you'll get the best possible end product because we use Heidelberg for our lithographic print jobs.
Now for some learning, it might come in handy for the pub quiz one day, so pay attention. Lithography is from the Ancient Greek 'lithos', meaning 'stone' and 'graphein', meaning 'to write' and it's a method of printing based on the fact that oil and water don't mix. It was invented in 1796 by a German author and actor, Alois Senefelder as a cheap way to print his theatrical works, as it can be used for text or artwork.
High volume lithography is used to produce posters, maps, books, newspapers and packaging – mostly smooth, mass produced items with print and graphics.
I'm pretty sure you don't need any more information than that. If you do, you might want to send us your CV as you'd probably like to work here – watching the hypnotic machines do their incredible work!
So, if you have a print run which might need our Heidelberg press, give us a call. We will certainly be able to advise you on which machine will suit your project and budget. But we will also be able to show off our snazzy machine!
Email Les on sales@icprinting.co.uk or call on 01256 760276